Yealink CP930W Wireless DECT Conference Phone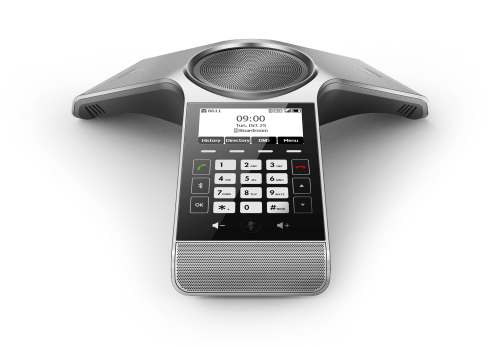 Yealink CP930W Wireless DECT Conference Phone
Yealink CP930W Wireless DECT Conference Phone
Yealink Wireless DECT Conference Phone CP930W, based on the reliable and secure DECT technology, is designed for wireless communication environments such as small-to-medium meeting rooms and huddle rooms. The CP930W not only ensures you up to 24 call hours, but also deliver the first-rate audio quality to you with the Yealink Noise Proof technology that your conference calls will be filled with the dynamics they deserve. In addition, the wireless design entirely frees you from the network and power outlets troubles and makes your conference table more uncluttered than ever before. Another smart feature is that Yealink CP930W provides wireless and wired pairing with your mobile staff – smartphone or PC/tablet via Bluetooth and USB Micro-B port to merge all these three devices, your smartphone, PC/tablet and CP930W into one hybrid UC meeting. Making your conference calls be mobile and flexible via Yealink CP930W which abandons the limitation of conference rooms and holds meetings anywhere you want within DECT coverage.

Yealink CP930W Wireless DECT Conference Phone Overview
The CP930W allows you to easily pair your mobile devices via Bluetooth or through a USB Micro-B port for your PC or tablet so that you can merge all of your devices during a meeting. This allows for flexibility and the ability to hold a meeting anywhere you want within your DECT coverage. 
A touch-screen display, HD Audio, call recording and a Hybrid UC meeting feature that allows for up to five parties to join a conference call from different locations are just some of the reasons why the Yealink CP930W has to be your top choice when selecting a conference phone.
Yealink CP930W Features and Specifications:
• 3.1" 248x120-pixel graphical LCD with backlight
• Built-in rechargeable Lithium battery
• Up to 24-hour talk time
• Up to 15-day standby time
• 3.75-hour charging time
• Built-in 3-microphone array
• Optima HD voice, full duplex technology
• 20-foot (6-meter) and 360-degree microphone pickup range
• Yealink Noise Proof technology
• 5-way conference call
• Connect to PC via Micro USB port
• Connect to mobile phones via Bluetooth
• Hybrid UC meeting
• Call recording via Micro SD card
• Sensitive touch keypad
• Upgrade Over-the-Air (OTA)
• Works with Yealink W60B Base Station (CP930W-Base)