Yealink VP59 Video IP Phone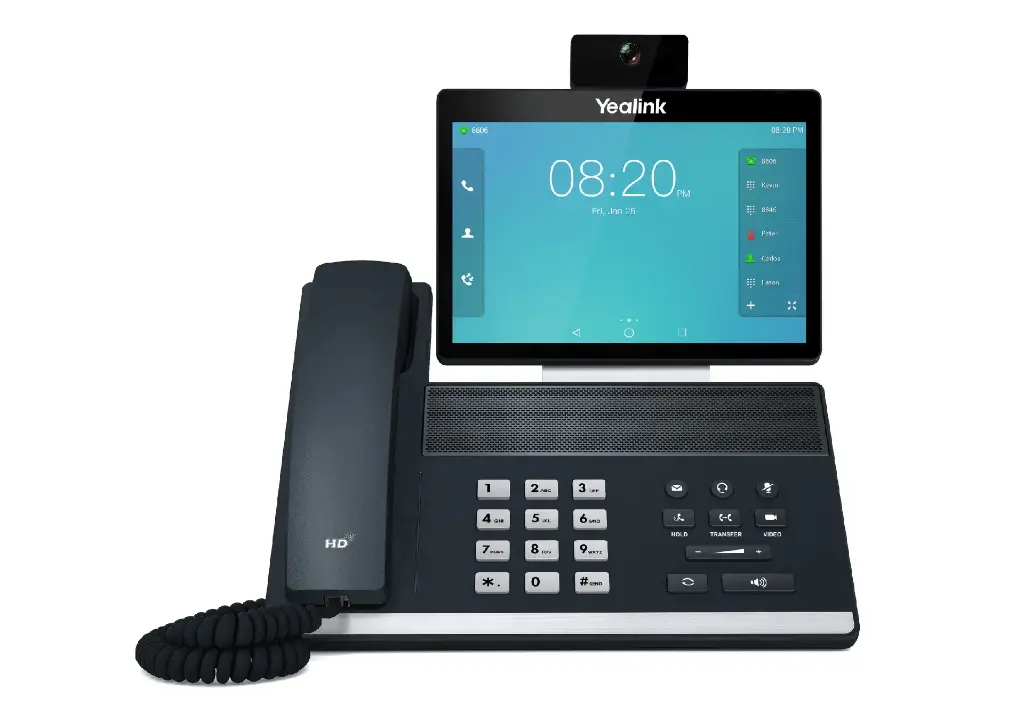 Yealink VP59 Video IP Phone
Yealink VP59 Smart Video Phone 
The Yealink flagship smart video phone VP59 is designed for executives and teleworkers that strikes the perfect balance between simplicity and sophistication, enabling high quality communications for business executives and professionals alike. Based on Android 7.1 operating system, the VP59 features an eight-inch LCD touch screen that gives you a smartphone-like user experience, and it also supports the installation of third-party applications for business customization as well as the DoorPhone features. When working with Yealink DD10K DECT USB Dongle, VP59 will turn into a corded-cordless phone and repay you up to 4 DECT handsets in total to meet your daily demands. Furthermore, the VP59 smart video phone boasts the 802.11 a/b/g/n/ac Wi-Fi connectivity as well as the Bluetooth 4.2 connectivity. This combination of advanced technology facilitates faster data transmissions and High Definition Multimedia Interface (HDMI) output for high quality media exchanges. 
Yealink VP59 Smart Video IP Phone Overview 
The Yealink T5 Series of Smart Business Video Phones includes the T58A, T58A with Camera and the flagship video phone the VP59. These are professional devices that are designed for desktop collaboration via video, content sharing and a wide range of features that are sure to boost productivity in the executive office or small conference room.
The phones provide advance collaboration features for the business user and help improve productivity with functions that are designed to make the workday more efficient. A large backlit display with high resolution and LED indicators allow for the best viewing and navigation experience. Its fully adjustable display gives users the option to change the screen based on their needs at a variety of angles. This can be especially helpful when in a video call or when lighting conditions require a change of angle. The T5 Series can be used for content sharing and the higher end models support built-in Bluetooth and Wi-Fi  (all except for the T53).
The T5 series features Yealink's Acoustic Shield technology for distraction-free voice clarity. The technology uses multiple microphones to create a virtual shield between the speaker and the person on the other line. When enabled, it blocks out or mutes sounds that are considered to be outside the shield so that the person on the other end hears the speaker clearly. Because if the noise blocking technology the T5 series is great for noisy workspaces. 
The T5 series IP Phones can be paired with the Yealink DECT handsets via the DD10K DECT dongle. Users can pair up to 4 cordless handsets per desk phone creating a wireless solution with seamless call switching between the desktop phone and the cordless DECT handsets. 
Yealink VP59 Features and Specifications:
• Flagship smart video phone for C-levels and workgroups with video collaboration demands
• 8" 1280x800-pixel color touch display, fully adjustable
• HD voice with Yealink Acoustic Shield and Noise Proof technologies
• 1080p HD business video (plug and play camera)
• 27 touch memory keys, 16 SIP accounts
• HDMI output
• Call recording and wireless USB headset support
Yealink VP59 IP Phone Package Contents:
Yealink VP59 console

Camera

Handset with cord

Base stand

Ethernet cable

Quick installation guide

CD-ROM with documentation