Yealink CP960 Conference IP Phone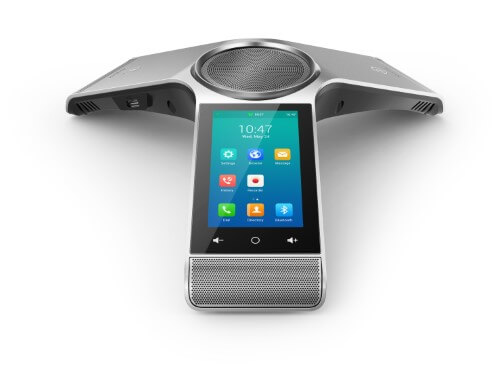 Yealink CP960 Conference IP Phone
Yealink CP960 Touchscreen Conference Phone 
The Yealink CP960 is an enterprise-grade conference phone for mid-and-large-sized meeting rooms. With speakerphone elements co-engineered with Harman, the CP960 sets new standards for sound quality and immerses conference participants in every discussion. Marrying a wide range and dead-zone-free voice pickup with Yealink's Noise Proof technology, the CP960 is the perfect match for day-to-day business conference conversations.

Yealink CP960 Conference Phone Overview
This Y-shape conference phone features an elegant design that makes it easy to pick up the audio in the room all while eliminating ambient noises and noise with noise-cancellation technology. With the CP960 up to five parties can join a conference call from different locations. 
In Yealink Pentagon Meeting Room, you can create a meeting directly and invite or allow someone to join the ongoing meeting seamlessly. Its Active Speaker feature helps you easily recognize who is speaking during the meeting. Pairing the Yealink CP960 with your smartphone via Bluetooth or with your PC/tablet via USB Micro-B port allows you to turn the Yealink CP960 into a loudspeaker or microphone with ease. In addition, after successfully pairing, you can merge all these three devices, your smartphone, PC/tablet and IP conference phone CP960, into one hybrid UC meeting. The CP960 can also be used in a large training room by connecting it to an external loudspeaker via 3.5mm audio-out port; and it supports local and USB call recording, local available recording time is up to 100 hours. 
Yealink CP960 Conference Phone Features and Specifications 
Optimal HD audio, full duplex technology
Yealink Noise Proof Technology
20-foot and 360-degree microphone pickup range
Two additional CP Wireless Expansion Mic CPW90
Built-in 3-microphone array
Based on Android 5.1 operating system
5-inch multi-touch screen with 720x1280 resolution
Yealink Pentagon Meeting Room
5-way conference call
Hybrid UC meeting
Built-in Wi-Fi/Bluetooth
Connect to PC via USB Micro-B port