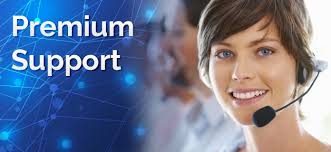 Premium Support Ticket
Billed on hourly basis & Per Ticket per issue
Paid Support Tickets are valid for 1 year
Support Procedures for Ticket Per Issue
Our support is offered for systems running the latest service packs of latest software version of the following vendors
Yealink IP Phone & Video Collaboration Solutions

D-Link Networking & Structured Cabling Solutions

3CX Phone System

Yeastar Solutions

Polycom / Poly Solutions
End User Support Package
Our support package is suitable for assisting internal IT-technical personnel to maintain vendor solutions installations themselves. Networking knowledge is required!
Before Contacting Support
Please make sure you first check the online material provided on the Vendors website. Most probably your answer is there:
What is Included
Help on configuring the vendor solutions and questions in relation to its operation based on the vendor admin guide while using supported Hardware or Virtualization platforms

Help with configuration of supported endpoints with the defined functionality within.

All the above must be USING THE STANDARD PROVISIONED TEMPLATE

Analysis of SIP logs in case of interoperability issues

(Only for supported VoIP providers, IP Phones or Gateways)

In the case of unsupported VoIP Providers, a check will be performed if the Phone System is correctly set up. If an unsupported VoIP Provider is being used, setup, debugging or general questions in regards to the VoIP Provider can not be answered

Analysis of Tunneled and Bridge connection to the Phone System excluding network routing and firewall configuration
Remote Sessions will be offered by the case managing agent on his/her own discretion and can not be requested. For remote sessions, Teamviewer or our own web conferencing platform will solely be used. During the support case logs and traces (Wireshark in the case of audio issues) may be requested in order to be able to assist. Those must be collected or generated by the requestor based on provided instructions.
What is Not Included
Installation of System and device provisioning.

Support for unsupported SIP Phones, Headsets or Gateways.

Support for IP Phones that are not configured using the Provisioning templates and/or not running the advised firmware.

Support for VoIP Gateways that are not configured using the Provisioning templates and/or not running the advised firmware.

Help in configuring your firewall or network routing.

Configuration of options in phones beyond the provisioned templates.

Troubleshooting unsupported VoIP Providers or performing interop tests with unsupported VoIP providers.

These items involve 3rd party products and networks outside our control.
What information should be included in a Support Ticket
No more than one issue per ticket

A detailed description of the issue

Date / time / IPs and phone numbers involved

Log files (this will ensure a faster processing time)

Support Bundles taken at the time of the issue

Wireshark Traces – in case of audio issues

The steps a support engineer should follow to reproduce the issue
SLAs
Our SLA is set to 4 hours after issue creation is handled within office hours , 8 hours after office hours & 48 hours for weekends and international holidays. Conference calls with 3rd parties are not included. Calls can only be held between us and the policyholder. We will not contact any 3rd party on behalf of the policyholder.
We provides support in English
Sharing support contact information to external parties is not permitted and will result in the immediate termination of the support subscription.
Limited warranty
We warrant that the support services will be performed in a workmanlike manner in accordance with industry standards. We makes no other warranty, express or implied, with respect to the subject matter of this support and support contract, including, but not limited to, any implied warranty of merchantability or fitness for a particular purpose or any other warranty of any kind respecting any support services performed hereunder or any materials furnished hereunder.
Limitation of liability
The cumulative liability of us to customer for all claims arising under or related to this support contract, whether in contract, tort or otherwise, shall not exceed the support fees paid to us. In no event will we be liable to customer for damages for loss of data, lost profits, or other indirect, special, incidental or consequential damages arising out of this agreement, even if we has been advised of the possibility of such damages, or for any claim by any third party. The foregoing limitation of liability and exclusion of certain damages shall apply regardless of the success or effectiveness of other remedies.
On Site Support Limitation
Onsite Support is offered only in Nairobi, Kenya